Medieval keyed fiddle found in Poland
During last week's meeting at ICTMs Study on Music Archaeology (Biskupin, Poland) Polish researchers presented what appears to be the oldest keyed fiddle found. This was the find of a soundboard of an instrument – from excavations in Wolin, at the Baltic coast. The find dates from the period between the end of the twelfth to the second half of the thirteenth century.
The oldest keyed fiddle (nyckelharpa) up to now is an instrument from Mora in Dalarna, inscribed with the year 1526. It is not certain if the dating is correct, and some researchers believe this so-called Moraharpa may be considerably younger. There is still little doubt that keyed fiddles existed earlier, and there are several images from the Middle Ages. On a portal from 1350 on the church gates of Källunge on Gotland, there is a depiction of a musician with a keyed fiddle, and this is considered to be one of the oldest representations.
Wolin is an island on the north coast of Poland, towards the border with Germany. The Baltic Sea was an important communications and trade route during this time, where the Hanseatic League dominated. The discovery was made near a dock.
The soundboard is made of pine and had two rectangular sound holes. The interpretation by the Polish music archaeologists, that it has been part of a keyed fiddle, seems reasonable. What could this have been if it was not the soundboard of a keyed fiddle? Lutes, fiddles and other stringed instruments with a neck would not have had such a wide soundboard. And if it was the soundboard from a hurdy gurdy, for example, it would be equipped with a wide hole where the wheel was placed. Still, since the instrument is not preserved, there is still some ambiguity around this artefact.
At the conference, the researchers Dorota Popławska and Stanisław Mazurek showed a reconstruction of the soundboard, placed on a keyed fiddle. The find is not published, but will probably be a part of the publication from the symposium in Biskupin.
An interesting part of music archaeology is that new finds sometimes shed new light on history, in this case the history of musical instruments. When the written sources have limited value, archaeology arrives with new material.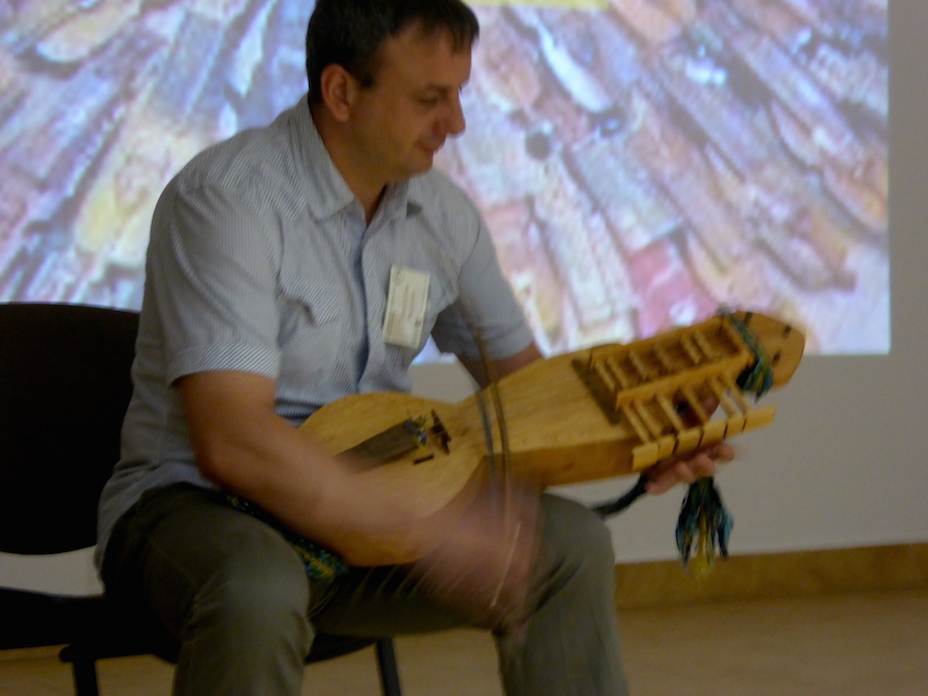 Cajsa S. Lund has been a pioneer and a central voice in the interdisciplinary field of…